John Packer JP176 Eb Soprano Cornet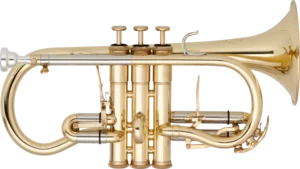 Product Description
The JP176 is a high specification but cost effective Eb soprano cornet, suitable particularly for new soprano players and a popular choice for training bands.

Suitable For:
This affordable soprano is a great choice for established cornet players looking to expand their cornet skill set. This instrument is a popular choice with players at a training band level.

Unique Benefits:
This affordable student soprano cornet has a number of features normally reserved for more expensive models. 1st and 3rd valve slide triggers support players to make small adjustments to tuning whilst monel valves deliver a quick and responsive action. The JP176 is constructed from yellow brass throughout.

Supplied With:
The JP176 is supplied with a JP8176 soprano cornet case, John Packer 4B Cornet Mouthpiece, Ultra Pure valve oil and maintenance guide.
Product Features
Key: Eb
Metal/Bell Size: Yellow Brass - 118mm (4.65")
Valve Type & No#: Piston Valve 3
Bore: Medium-Large 11.30mm (0.445")
Water Key Type & No#: Lever 2
Included Accessories: Valve oil, Maintenance guide
Lyre Box: Yes
Mouthpiece: JP 4B
Level: Student