Manhasset 5206 Voyager Music Stand (6 pack)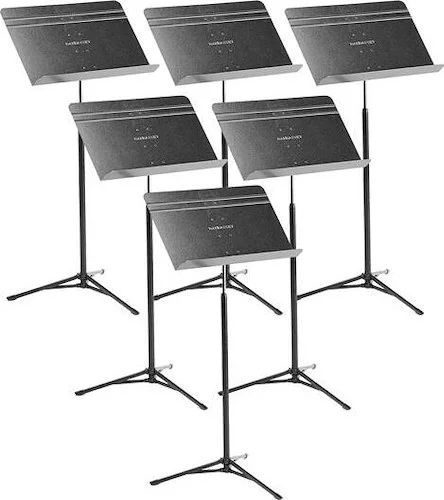 Product Description
Designed for the musician demanding portablity without sacrificing any Manhasset quality. This highly portable, concert style music stand has the same features that have made Manhasset famous. The Voyager desk is the same as the Symphony desk (20" x 12" wide) and the Voyager features the Manhasset shaft with Magic Finger Clutch. The Voyager base is retractable and the desk is easily removed from the shaft for portability. The Voyager desk is adjustable from 26" to 48" lip to floor. Pack of 6 stands.
Product Features
Longest lasting, most durable music stand made. Rugged, all-aluminum, lightweight desks are ribbed for extra strength. Baked-on, glare-free, black textured finish resists scratches and chipping.
Easy, automatic no-knob friction-tilt neck delivers constant tension at any tilt position.
Secure at any height, even with a heavy load of music
Heavy-gauge, all-steel welded base provides excellent stability and requires minimum space on stage risers or in storage.