Mooer Micro Series Varimolo Dig.TremVariable Digital Tremolo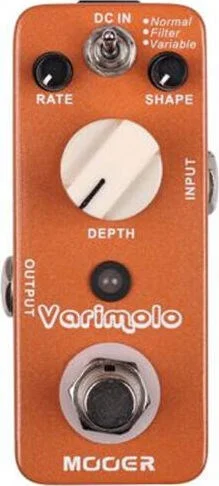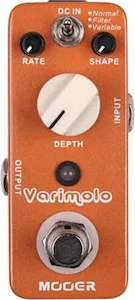 Item Unavailable
To get notified when this product becomes available, click the button below. We'll send you an email when it's back in stock.
Product Description
Three different tremolo modes:

- Normal/Filter/Variable
- Normal: A normal tremolo effect
- Filter: Adds a sweeping filter sound to tremolo effect
- Variable: Adds rhythmic variations to tremolo effect

A wide range of adjustment options
Three tremolo modes with RATE, SHAPE and DEPTH knobs, providing you with a wide range of tone adjustment, which enables this pedal to be very versatile under different musical situation. It also brings you with more musical experience and the joy of playing. Simple and direct operation, toggle the switch can switch between different tremolo modes.

Tiny size
Inherit the Mini size of the MICRO SERIES pedals, your pedal board can have more space and therefore you can put more pedals in it.

True Bypass
When Varimolo is bypassed, it will not affect the original signal, which ensuresthe signal integrity.