Oscar Schmidt OS21CQTBL 21 Chord Acoustic Auto Harp. Quilt Trans Blue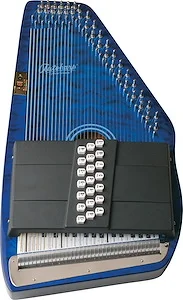 Item Unavailable
To get notified when this product becomes available, click the button below. We'll send you an email when it's back in stock.
Product Description
Easy to tune, with very nice quality strings.
The Oscar Schmidt OS21CQTBL Autoharp is the bestselling Autoharp ever. Solid sturdy construction and a beautiful sound create an instrument that cannot be matched in this price range. Features 21 chords, plays in eleven keys all with great sound and the quality workmanship of the world's foremost Autoharp producer, all at an incredibly affordable price! The Autoharp is truly an American instrument in origin. It's birth from the chorded Zither to present day diatonic & chromatic instruments, attest to the popularity and versatility of the Autoharp worldwide.