Symmetry Fiberskyn® Conga Drumhead, 11.75"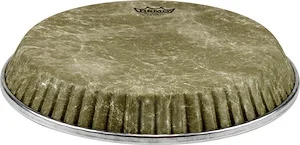 Item Unavailable
To get notified when this product becomes available, click the button below. We'll send you an email when it's back in stock.
Product Description
The Symmetry Fiberskyn® Conga drumhead is our most versatile Conga drumhead in terms of fit. Fiberskyn® provides a superb, authentic drum sound with maximum projection, lively overtones and the sound and feel the top percussionists prefer. Symmetry provides superior construction, low maintenance and features a Crimplock® hoop increasing stability and tuning range. Symmetry drumheads fit more Conga drum models from the various manufacturers in the industry. Available in sizes: 9.75", 10.75", 11", 11.75", 12.50", 13".


Product Features
Fiberskyn® provides a superb, authentic drum sound with maximum projection, lively overtones with the sound and feel the top percussionists prefer
Superior construction, low maintenance, weather resistant with a Crimplock® hoop that increases stability and tuning range
Symmetry drumheads fit more Conga drum models from the various manufacturers in the industry