Tabletop Music Stand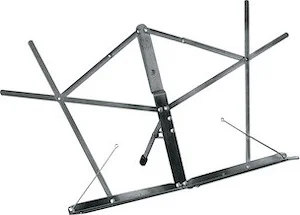 Product Description
This stand has been continuously made by Hamilton for over 100 years! The American style desk has top braces for additional support, along with spring wires for securing music. The reading angle is adjustable, and the stand folds to compact size for storage in a drawer. The bright chrome plated finish adds durability for a long life.
Product Features
Brand:HAMILTON
Live Stage, Schools, Rehearsals
Builtwith feature-rich designs and high quality materials, the Hamiltonfolding music stand out-performs and outlasts the competition.
Very portable; can be used for books and magazines in addition to sheet music.