Big Joe Stomp Box Company Analog Phaser R-408 | Raw Series - Phaser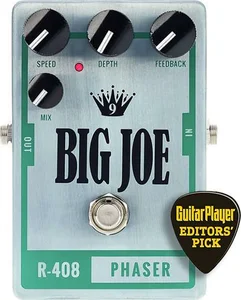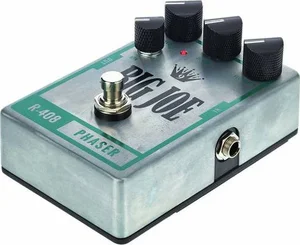 Product Description
9V Buttery smooth vintage analog sound with variable mix control. Ultra-warm, with full range response this little gem adds shimmer to lead licks or swooshing resonance to muted strumming. Variable feedback control adjusts from classic phase signature to an almost Wah Wah like effect. Vary the speed from a subtle, long cycle to a Leslie like swirl. This is a highly versatile, classic analog tone box.
Product Features
True bypass
ANALOG
Speed, Depth, Feedback controls, Mix switch, and, Status LED
Uses 9VDC power supply (2.1 mm x 5.5 mm barrel connector, polarity (-) inside, not included)
12V and 18V support
Customer Reviews
Submit A Review
1 Review
5 out of 5 stars
Vintage phaser with added control
Submitted on Jun 21, 2021
I've had a bunch of phasers over the years but the Big Joe Phaser is my favorite so far. It's warm, clear, doesn't muddy your clean tone, and has smart added controls for versatility. Capable for vintage phaser, faux Leslie, and even univibe style swirl. Would definitely buy again!