Exhibition Module Stand Truss Package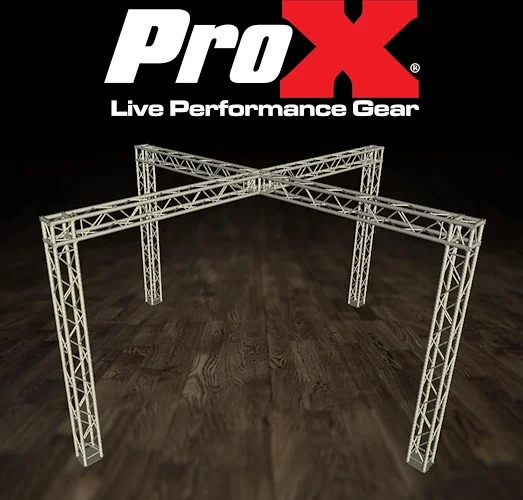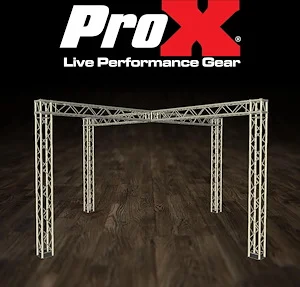 Product Description
The XTP-EX2323-11 Truss makes it easy to hang accessories like: lighting, screens, speakers, signage, time clocks, Icd panels and announcer sound systems.  We can help you design a Truss for your event.
Dimensions
22.62W x 22.62L x 10.82H (ft)
6.70m W x 6.70m L x 3.00m H
The XTP-EX2323-11 Truss Package includes:
8pcs - XT-SQ984 (3.00m Truss Section)
4pcs - XT-JB6W-2W  (Corner Junction )
1pcs - XT-JB6W-4W (Corner Jnction )
4pcs - XT-BP12A (1'X1' Al. Base Plate)
ProX Truss has the most trusted staging support systems in the industry, and is built to the highest standards of safety and performance.  It's a rugged yet lightweight trussing solution perfect for mobile DJs, bands, outdoor performances, nightclubs, live mobile productions, or permanent installations. Together we can make sure the participants have an experience they will remember!
ProX offers a wide array of small to medium temporary booth and trade show solutions to suit all types of indoor and outdoor events!  Custom temporary DJ and Production set projects are a specialty of the ProX Engineering Department, which focuses on safety and stability of its designs.  Work with our experienced Truss and Show Designers to help you easily build that unique, safe professional looking display you have in mind with ProX Truss.
All ProX Truss products are 100% compatible to connect along with many other manufacturers!  All ProX Trussing are constructed to the highest safety ratings by certified welders.
---
ProX Truss specializes in high-quality, general-purpose aluminum lighting and stage trussing designed for live stages, theaters, nightclubs, church installations, mobile applications, trade shows and retail applications. Our products are built using 6082-T6 Aluminum Alloy compositions. This lightweight, corrosion-resistant aluminum has a very high tensile strength, giving you the support and stability you need. The ProX Truss Conical Coupling System allows for genderless trusses, providing a more precise line up of chords and fastening points, while the conical shape of the couplers helps maintain overall rigidity at the stress points and makes parts harder to damage. This system also makes assembly quick and easy with very few tools needed to complete set up. 
---
---