Hagstrom UVIK-DDL Super Viking Electric Guitar. Dandy Dandelion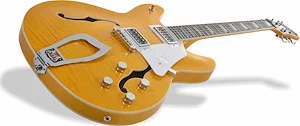 Product Description
Versatile tone, incredible playability, and sleek looks have powered the Hagstrom Viking to its commanding position in the in the semi-hollow body guitar world. The Super Viking continues in the Viking tradition by incorporating key features from Hagstroms Legendary Super Swede model into a Viking platform.
An important trait inherited from its Super Swede cousin is the Super Vikings longer, 25.5 inch (648mm) scale length. Drop tunings are a breeze with this longer scale, maintaining brilliance of attack and powerful resonance throughout the instrument as lower tonal realms are explored.
Sonic versatility is further enhanced by Hagstroms new, open framed H-50C humbucker pickup's designed specifically for the Super Viking. Add to this mix independent switching between humbucker and single coil mode via push/pull tone pots, and the Super Viking vastly expands your tonal horizons, creating a new range of sonic worlds to ravage.
All Super Vikings feature gorgeous flamed maple bodies with block fingerboard inlays, and are available in six luscious colors
 All Hagstrom electric guitars and basses include their patented H-Expander truss rod. Providing tension at both ends and running the entire length of the neck, the rigid yet light-weight alloy truss rod allows for a very low action and thin neck, two factors that were instrumental in earning Hagstrom its reputation as the worlds fastest playing guitar. The H-Expander truss rod not only provides ultimate neck stability, but it also contributes to Hagstroms unique tone. Longer sustain and a round attack are some of the sonic characteristics the H-Expander adds to the tonal essence of Hagstrom.
Resinator wood is a wood composite material that is both more uniform in density and more stable than any standard wood product. These characteristics eliminate dead spots or wolf tones sometimes associated with conventional wood fingerboards. Resinator wood has an articulate sound similar to high quality ebony, but without any of the problems associated with ebony. It provides a stable and Clear tone, and also adds higher overtones and harmonics which uniquely detail each note. Like our H-Expander truss rod, Resinator wood is a major contributor to the distinctive Hagstrom tone.
Hagstrom uses a variety of different neck joints throughout our range. Our set-neck recipe is the classic and time-tested Mortise and Tenon joint, a design that most efficiently transfers string energy from neck to body, and can often only be found on more expensive custom-built guitars. A team of experienced and dedicated craftsmen hand carves every neck joint, insuring perfect execution of this traditional technique preferred by luthiers for generations.

Product Features
Versatile tone, incredible playability, and sleek.
pickup's 2 x Hagstrom HJ-50
Pickup Selector: 3-Way Toggle Switch
All Super Vikings feature gorgeous flamed maple bodies with block fingerboard inlays.
H-Expander truss rod and Resinator fingerboard, providing the ultimate in playing surface stability and optimal tonal enhancement.