Hydrive HL Series Lightweight Bass Cabinets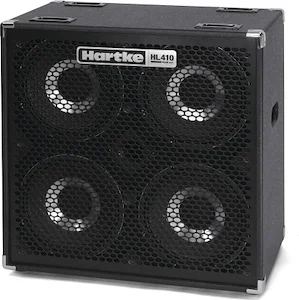 Product Description
The next step in the evolution of Hartke bass enclosures are the Hartke HyDrive HL Series lightweight cabinets. An all new cabinet design paired with updated HyDrive speakers with neodymium magnets, deliver unmatched tone, depth and clarity in a dramatically lighter cabinet. The huge power handling and lightweight design makes the HyDrive HL Series the only choice for demanding bass players.
Lightweight Design
HL Series Cabinets feature a brand new, lightweight design made from 16mm kiln-dried plywood which substantially reduces the overall weight of the cabinets. Enhanced bracing and dado joinery ensure the cabinets are rock solid and deliver a powerful low end tone. Durable black textured paint finish, powder coated steel grille and chrome plated corners guarantee these cabinets will withstand years of playing. These cabinets are rugged enough for a world tour, yet light enough to easily load into your car at 2am after a local gig.
HyDrive Evolved
HL Series cabinets feature Hartke's patented HyDrive speaker with neodymium magnets which further reduce the weight. The outside curved, Kevlar -loaded paper cone delivers a even response with a deep tone, while the inner anodized aluminum cone produces clear transients and smooth mids. The cabinets include a 1 inch. horn loaded tweeter, with a 3-position level switch, that adds high frequencies. The result is a clean, full tone with the clear fundamental of each note and its natural overtones.
A HyDrive HL Model for Everyone
The Hydrive HL Series includes the HL410 4x10 inch. 1000W, 8-ohm Bass Cabinet, HL115 1x15 inch. 500W, 8-ohm Bass Cabinet, HL210 2x10 inch. 500W, 8-ohm Bass Cabinet and HL112 1x12 inch. 300W, 8-ohm Bass Cabinet. Whether you're playing a stadium or in a small club, there's a HyDrive HL cabinet for your application.
HyDrive HL410 Specs:
* Description: 4 x 10-inch bass cabinet
* Power Handling: 1000 watts RMS
* Impedance: 8 ohms
* LF Drivers: 10-inch HyDrive paper/aluminum hybrid cones with neodymium magnets
* HF Driver: 1-inch
* HF Level Control: 3-position switch (-6dB, Off, On)
* Frequency Response: 45Hz-17kHz (-3dB); -10dB LF Response: 30Hz
Connections: 2 x Twist & Lock, 2 x 1/4-inch (wired in parallel)
* Cabinet Type: Dual-chamber, sealed
* Cabinet Construction: Kiln dried plywood, extensive bracing, dado joinery, textured paint finish
* Grille: Black perforated steel
* Product Weight: 47.6lb / 21.36kg
Dimensions: 24 inch. x 24 inch. x 15 inch.