KidsPlay 8-note Handbell Set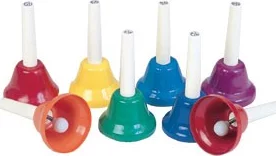 Item Unavailable
To get notified when this product becomes available, click the button below. We'll send you an email when it's back in stock.
Product Description
Top quality construction and accurate intonation make this 8-Note Handbell Set the best value available. C-c range, each of the 8 metal bells are marked with the proper note and number to help children learn the musical scale.
Customer Reviews
Submit A Review
1 Review
5 out of 5 stars
Submitted on Feb 25, 2023
Very nice tone to these bells!!
Looking forward to adding these to the children's ministry music group!!