Metodo de Guitarra Moderna Grado 1, Edicion Expandida, Espanol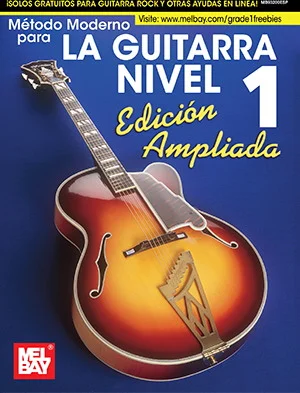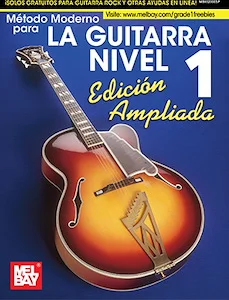 Product Description
El Método de Guitarra Moderna de Mel Bay es la serie de instrucciones más importante del mundo para el aprendizaje de púas modernas o técnicas de guitarra de estilo pick. Probado por el tiempo y probado como exitoso en la construcción de las bases teóricas y técnicas necesarias para jugar en cualquier estilo de este método integral, está escrito en notación estándar solo para promover las habilidades de lectura a primera vista y mejorar la musicalidad en general. Sin igual en su minuciosidad en la enseñanza de todos los conceptos importantes, si realmente desea convertirse en un guitarrista, este es el método para usted.

En la Edición Expandida de Grado 1, aprenderá la postura correcta, las posiciones de las manos y la técnica de agarre, además de los conceptos básicos de la lectura de la notación estándar. Tocarás escalas, acordes, duetos y solos en las teclas C, A menor, G y E menor. Incluso en el Grado 1, se le presentará el concepto de acorde / melodía de la interpretación de guitarra tan prominente en el estilo de juego de Mel Bay, fomentando una comprensión temprana y casi intuitiva de cómo las melodías encajan con los acordes.
Todos los conceptos presentados en este método están reforzados por numerosas páginas de material para tocar y la cantidad justa de teoría musical, proporcionando una base sólida para el guitarrista estudiante.
Las características especiales de la Edición Expandida de Grado 1 incluyen:
Consejos sobre la afinación, la postura correcta, las posiciones de las manos y la celebración de la selección.
Estudios de picking, acordes principales y patrones de acompañamiento en las teclas C, A menor, G y E menor.
Melodías cuidadosamente graduadas, estudios y lecciones de teoría musical que se mueven a un ritmo fácil de usar.
 Tips on tuning, correct posture, hand positions and holding the pick.
 Picking studies, principal chords and accompaniment patterns in the keys of C, A minor, G and E minor.
             Carefully graded tunes, studies and music theory lessons that move at a user-friendly pace.

Product Features
Author: por Mel Bay
Format: Book
Series: Modern Guitar Method
SkillLevel: Beginning
NumberofPages: 88
PublicationDate: 09_24_2013
ProductionSize: 8.75 x 11.75
Category: Guitar: Flatpicking-Guitar: Rock & Blues-Guitar Methods-Guitar: Jazz and Contemporary-Style-Contemporary-Children and Young Beginner-Method-Method-Method