Orchestra music std clutch handfree clutch adj blk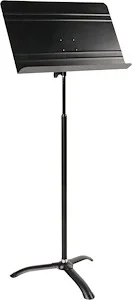 Product Description
Elegant, contemporary design, this music stand is built for professional use and represents the best option for venues such as schools, music conservatories, concert halls and theatres. 

Collapsible 3-piece design makes it quick to set up and easy to stow when not in use.
Solid steel, heavy-duty, allwelded tripod base provides absolute stability and takes up a very small footprint. 

The outer mast, baked with a scratch-resistant black powder coating, screws firmly into the base to grant a safe, non-wobbly support to the heaviest music score loads. 

Chrome-finish telescoping shaft can be smoothly set at any height position from 31.5" to 53.15" (80 to 135 cm) using the knobless, one-handed height adjustment friction mechanism.

The removable, robust yet lightweight all-aluminium music holder is ribbed for extra strength and is large enough to hold a 3-page score, but will also safely accommodate laptops and tablets. 

Optional MST/767 cart for up to 10 orchestra sheet music stands is available to speed up transport and facilitate storage.