Ortega Guitars OTMDLX-GOBK Classical Tuning Machines Deluxe Gold Baseplate with Black Ebony-Style Buttons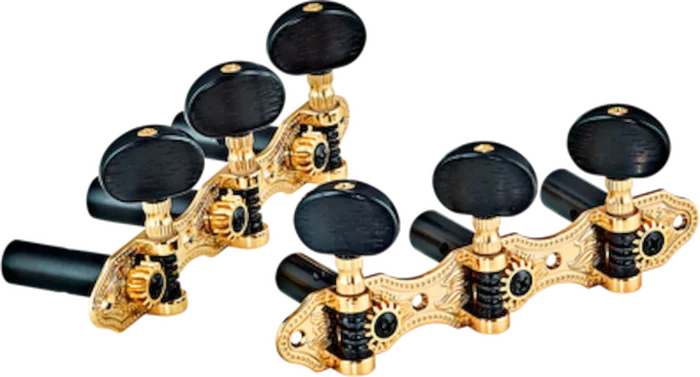 Item Unavailable
To get notified when this product becomes available, click the button below. We'll send you an email when it's back in stock.
Product Description
Ortega Guitars Classical Tuning Machines: Upgrade your nylon string guitar with our Classical tuning machines with style.

Features:
• Classical Tuning Machines Deluxe Gold Baseplate Hardware
• Black Nylon Rollers and Black Ebony-Style Buttons
• Set Includes a Pair of 3- Left/3-Right Tuning Machines with Mounting Screws
• Ratio 1:14
• Designed for Slotted Headstock and 35mm String Roller Spacing

Customer Reviews
Submit A Review
1 Review
5 out of 5 stars
Submitted on Dec 10, 2021
I like these Ortega tuners.  They were easy to install and they look sharp too.  Tuning works well ... no disappointments. Would order again.