Panel - Single Gang Electric Box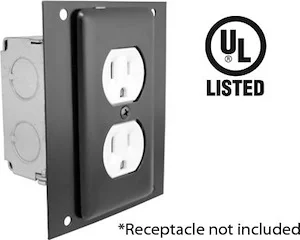 Product Description
Pre-cut Mounting Panels are created from high strength steel that is 1/16" (.062") thick. These standard panels are always in stock and mount into ACE Stage Pockets with (4 or 6) self-tapping screws. Each panel is fabricated to precisely mate within the p
Product Features
FLEXIBLE 110VAC MOUNT: FP2E, FP3E, and PE Series Electric Pocket Panels utilize a custom machined mounting panel with cover panels which allow mounting of 1, 2, or 3 gang Edison Duplex outlets.
DURABLE CONSTRUCTION: ACE Electric Pocket Panels are made from tough 1/16" thick Steel. Stock Electric Pocket Panels are flat, strong, and rigid. ACE Electric Pocket Panels are machine punched and ready for installation.
PE Panel will mount 1 Edison Duplex Outlet.
EASY INSTALLATION: Standard Electric Pocket Panels mount with (4 or 6) self-tapping screws. Each Electric Pocket Panel is made to precisely mate within the pocket mounting holes.
DURABLE FINISH: Oven cured, semi-gloss, black powder coat.