RJM Overature Programmable Analog Overdrive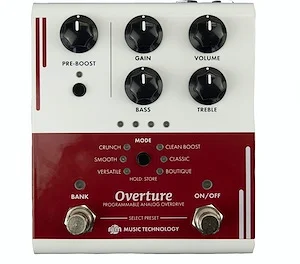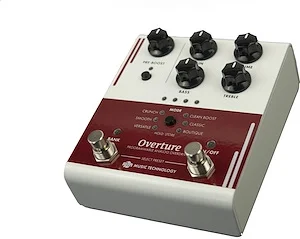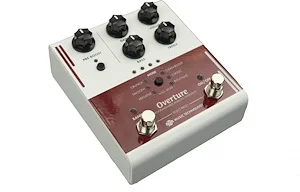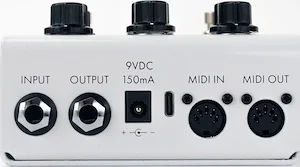 Product Description
Introducing RJM's first effect pedal!

The Overture is a fully programmable overdrive pedal with a 100% analog signal path.

The Overture takes six great classic and modern overdrive tones and puts them all into one pedal.  Create up to 8 presets with your favorite settings and recall them with the press of a button.

You get six overdrive modes, four based on classic pedals and two that are brand new. An additional pre-boost circuit can also be switched in to boost the input of any of the overdrive modes, with up to 12dB of additional gain.

High quality components are used throughout the Overture, and the incoming 9 volt power supply is boosted internally to 18 volts for the best performance from the circuit. This makes the Overture very dynamic and "big" sounding.

If you use MIDI, you can get even more from the Overture. You can access up to 100 presets and use an external controller to adjust parameters on the fly. There is special support for MIDI controllers with expression pedals – you can easily set up knob settings for the "heel down" and "toe down" positions of the pedal and the Overture will smoothly transition between those settings as you move the pedal.

The Overture has six overdrive modes:

Clean Boost – This mode, an RJM original, offers boost up to a light overdrive. It has the highest maximum output level of all of the modes, and is excellent at pushing an amp into overdrive. Both Bass and Treble controls are active in this mode.

Classic – A tribute to what is arguably the most popular overdrive ever made. It can be smooth or a little aggressive, with a prominent midrange emphasis. This mode has the lowest output level of all the modes, but it's still plenty for almost any purpose. The Bass control isn't active in this mode.

Boutique – Based on the a boutique version of the classic. This mode is much less compressed and has somewhat less midrange focus. It has a "leaner" and more open sound. The Bass control isn't active in this mode.

Versatile – Based on another, more extensive modification of the classic circuit, this one has a flatter frequency response compared to the other modes and offers a wider range of tones than the previous two modes thanks to the Bass control.

Smooth – This mode combines fairly high headroom with a special MOSFET clipping circuit that produces a more saturated sound, similar to some cascaded gain amps. The Bass control operates differently in this mode, adjusting both bass and treble at the same time and changing the overall voice of the overdrive.

Crunch – The last mode, another RJM original, adds some hard clipping and more aggressive midrange, allowing it to get into harder rock territory. Both Treble and Bass controls are active in this mode.
Product Features
100% analog signal path
6 overdrive modes (Clean Boost, Classic, Boutique, Versatile, Smooth, Crunch)
Pre-boost circuit with up to 12dB available boost
8 user-programmable presets arranged in 2 banks of 4
100 presets available when used with a MIDI controller
Comprehensive MIDI capabilities
5-pin MIDI In and Output jacks
USB-C connector for direct connection to a computer
3 year limited warranty
Pre-boost circuit can be added to provide up to 12dB boost in front of the overdrive circuit.
8 presets accessible from the pedal itself (4 presets in each of 2 banks)
100 presets available using a MIDI controller
Responds to both MIDI PC and CC messages
1/4″ mono unbalanced audio input and output
5-pin MIDI input and output, bidirectional when used with compatible equipment
USB-C connector for connection to phone, tablet or computer. Appears as a standard MIDI device in MIDI enabled apps
Power Requirements: 9VDC power supply capable of providing 150mA or more current
BOSS-type power connector, 5.5mm/2.1mm barrel connector, center negative
Dimensions: 4.4 (w) x 5.25 (d) x 2.4 (h) inches (11.1 (w) x 13.3 (d) x 6.1 (h) cm)
Made in USA