Rock & Roll It Piano Studio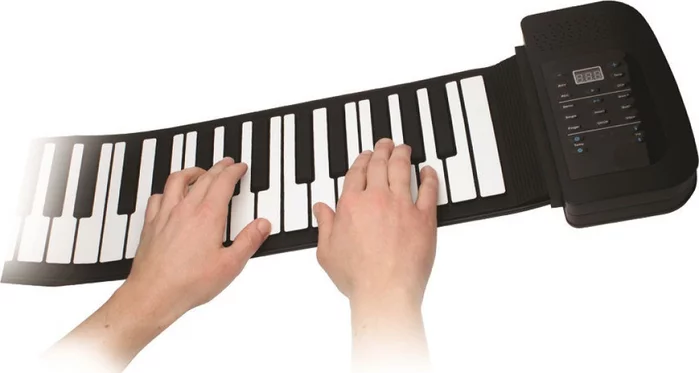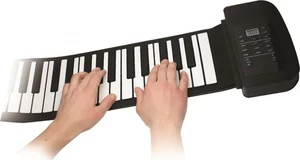 Product Description
Rock out, then roll it up! Multi-function, flexible, completely portable professional piano by MukikiM with 61 standard keys. 

Features :
128 Keyboard Tones
128 Rhythms
45 Demo Songs
Vibrato/Sustain
Record & Playback AND OOP recording
Teaching Mode
MIDI compatible
Digital display
Tempo control
Drum sound function
Power saving function activates when not in use
Built In Speaker w/auxiliary capabilities(headphones or external speaker)
Powered by included rechargeable battery OR USB (cord included!)
Completely portable - take it with you and play ANYWHERE!
Realistic Sounds

Specifications:
Keyboard Size (open): 36"x6.5"x.25"
Control Panel Size: 4.5"x8.5"x1.3"
Rolls up into a box sized: 11"x9"x3.75"
Materials: Silicone, plastic
Batteries needed: 1x Lithium Rechargeable Battery (included)

Package Includes:
1-Piano with attached control panel/speaker
1-47" USB power cord (wall plug not included)
1-Lithium Rechargeable Battery
1-User Manual

Notes for usage:
Due to the soft silicone that the keyboard is made of, there are times when compound sounds are produced due to cross-feedback or vibrations registering on adjacent keys. This is normal for such devices and is not indicate a faulty or malfunctioning product.
Product Features
61 keys with built-in speaker - MIDI compatible
Flexible material easy to roll up
Can run on rechargeable battery or USB (cord included)
Features 128 keyboard tones, 128 rhythms, 45 demo songs, digital display, tempo control key, drum sounds function, record, playback, built-in speaker control and much more!