WD Licensed By Fender Replacement 22 Fret Neck For Stratocaster Modern C Ebony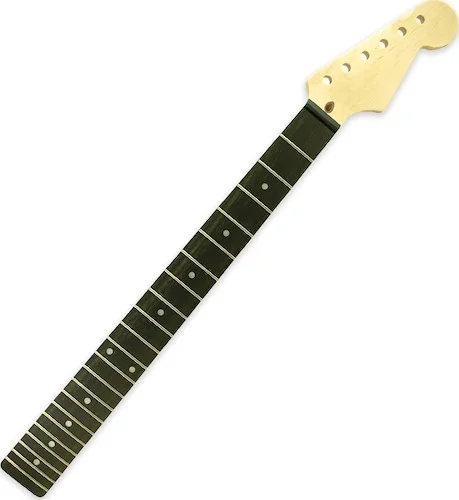 Item Unavailable
To get notified when this product becomes available, click the button below. We'll send you an email when it's back in stock.
Product Description
WD® Licensed By Fender® Replacement 22 Fret Neck For Stratocaster® Modern C
Replacement Stratocaster® neck, 22 medium jumbo frets with headstock adjust double action truss rod and a 12 inch radius maple fingerboard. The nut width is 1 11/16 inch wide and pegholes are drilled at 10mm for a modern die cast type tuning machine but adapter bushings are available to reduce these hole sizes if you would like to mount vintage Kluson tuning machines. A thin clear satin finish makes this the perfect replacement for your modern Stratocaster®. Nut not included.
All necks require a final level, crown, and polish and may need to be fine-tuned to your instrument and playing preferences. Your new neck should be carefully inspected prior to installation and/or modification as necks are rendered non-returnable once altered. Due to the organic nature of wood each neck is considered unique and may have minor variations in grain or finish from those pictured. WD does not sell what is commonly referred to as seconds or blems. Due to the volume of necks that we sell WD does not hand-select necks based on appearance or weight. WD neck heels are made to Fender USA dimensions and tolerance, this may not account for neck pocket shrinkage or expansion over time. Some neck pocket modification may be required.
WD recommends that if you are not familiar with replacement neck installation that you contact a qualified luthier or repair shop.
Customer Reviews
Submit A Review
1 Review
2 out of 5 stars
Required too much fret work
Submitted on Jun 29, 2021
Very good process in terms of negotiating and placing the order, but I was disappointed in the quality of the actual product.  The vendor refers to things needing to be "fine tuned", but the frets on the neck I received needed much more than that in my opinion.  Going through with a fret rocker revealed that probably 80%+ of the frets needed some amount of leveling.  The fret ends also had significant sprout.  If one has the tools, knowledge, and time to deal with those issues, then the price on these necks could be worth it.  Otherwise, you'll want to budget for these necks to be worked on by a luthier or just find a pre-finished neck.  I returned mine as a result, and that process also was easy enough.